Home
Program
Poster Session

A Raster Version of the Circumpolar Arctic Vegetation Map (CAVM)
2131 downloads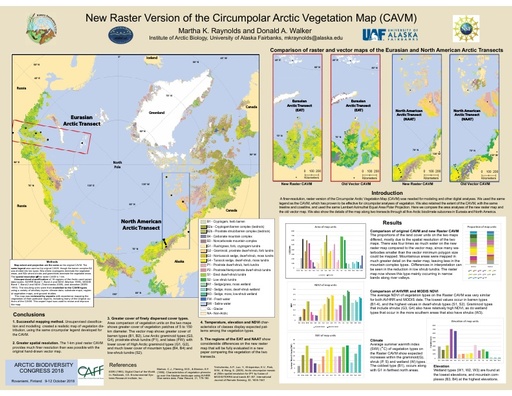 Martha Raynolds
University of Alaska Fairbanks
Walker, Donald A. University of Alaska Fairbanks, USA
The Circumpolar Arctic Vegetation Map (CAVM) is a vector (polygon) map showing the dominant physiognomy of Arctic vegetation. It used a consistent circumpolar legend (15 units), was published in 2003, and has been cited over 700 times. This project created a 1-km resolution raster CAVM, providing greater resolution (1-km pixels vs. the 14-km minimum polygon diameter), while maintaining the same vegetation legend, and matching the format of environmental data from satellite sensors.
The new map is based on unsupervised classifications of seventeen geographic/floristic sub-sections of the Arctic, using AVHRR and MODIS data (band and NDVI) and elevation data. The classification units were modeled to the CAVM types using ancillary data: the original CAVM map, climate data, substrate data, regional vegetation maps and ground studies.
The map was reviewed by experts, including many of the original authors of the CAVM from the U.S., Canada, Greenland (Denmark), Iceland, Norway, and Russia. The map will be available on the Alaska Arctic GeoEcological Atlas hosted by GINA at the University of Alaska Fairbanks http://arcticatlas.geobotany.org/. The greater spatial resolution of the raster format allowed more detailed mapping of water bodies and mountainous areas, portrays coastal-inland gradients, and better reflects the heterogeneity of vegetation type distribution.
---