Home
Program
Poster Session

The "Red phone": Rapid response to environmental emergency alerts. An INTERACT Initiative.
---
449 downloads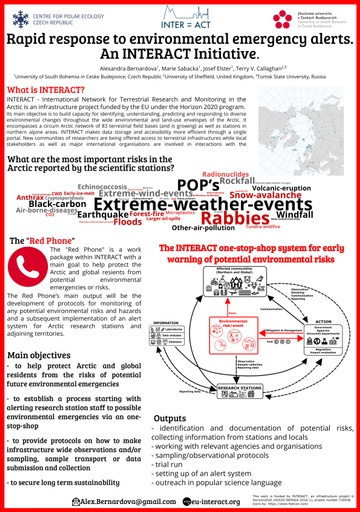 Alexandra Bernardova
University of South Bohemia

Sabacka, Marie, University of South Bohemia, Ceske Budejovice, Czech Republic
Elster Josef, University of South Bohemia, Ceske Budejovice, Czech Republic
Callaghan Terry V., University of Sheffield, United Kingdom and Tomsk State University, Russia
INTERACT - International Network for Terrestrial Research and Monitoring in the Arctic is an infrastructure project funded by the EU. Its main objective is to build capacity for identifying, understanding, predicting and responding to diverse environmental changes throughout the wide environmental and land-use envelopes of the Arctic. It encompasses a circum Arctic network of 82 terrestrial field bases (and is growing).
The "Red Phone" is a work package within INTERACT with a main goal to help protect Arctic and global residents from potential environmental emergencies or hazards. The work package is focused on identifying, observing and documenting potential risks and hazards and working with relevant agencies and organisations to help response actions.
The whole project is dependent on efficient networking throughout the Arctic, for which INTERACT provides a great platform with its comprehensive net of research stations where sampling and observations can be carried out simultaneously and in the same way across a wide range of territories and often in remote regions.
The Red Phone's main output will be the development of protocols for monitoring of potential environmental risks and a subsequent set up of an alert system for Arctic research stations and adjoining territories.