Home
Program
Poster Session

Arctic data sharing – Online Arctic Maps, Data services and tools
1952 downloads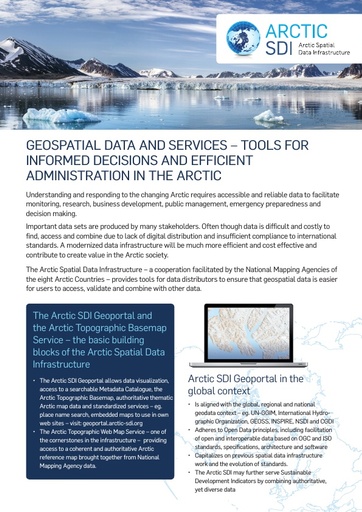 Peter Pouplier
Arctic SDI - cooperation between the 8 Arctic National Mapping Agencies

Fredrik Persäter, Senior Advisor, Swedish Mapping, Cadastre and Land Registration Authority
Jani Kylmäaho, Head of Development, Topographic data production, National Land Survey Finland
Important data is being processed into Arctic Council reports and for other purposes, but afterwards this data is often very difficult and costly to find and access to be reused.
By using same reference data sources and international standards for data, services and distribution Arctic stakeholders can improve sharing and reusing of data significantly.
The poster will present readily available Arctic data, tools and services for data sharing provided by the Arctic SDI in support of the work of the Arctic Council and the Arctic Scientific community (Arctic SDI Basemap, services and tools in the Arctic SDI Geoportal) as part of the development of an Arctic spatial data infrastructure.
The Arctic SDI is the cooperation between the National Mapping Agencies of the 8 Arctic Countries.
The Poster stand will be manned and the tools and services of the Arctic SDI Geoportal be demonstrated.
The Poster shall be seen as a complementary to the proposed session proposed by the Arctic SDI and CAFF under the theme KNO7: Improve data management, coordination and access.
---