Home
Program
Poster Session

Does acidification explain distribution of large branchiopods in the Scandinavian mountains?
2256 downloads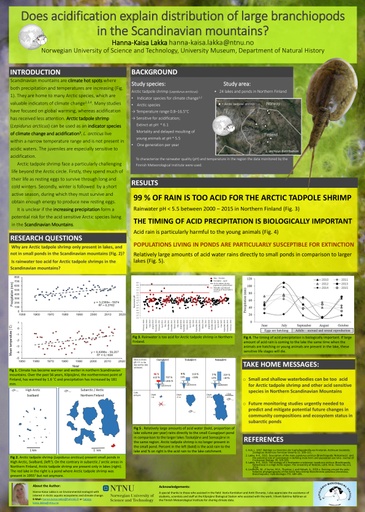 Hanna-Kaisa Lakka
Norwegian University of Science and Technology (NTNU)


Scandinavian mountains are climate hot spots where both precipitation and temperatures are increasing. They are home to many Arctic species, which are valuable indicators of climate change. Small water bodies are particularly vulnerable to impacts in water quantity and quality due to changes in climate variables. I explored the habitat quality and presence-absence of large cold-adapted and acid sensitive branchiopod in 24 water bodies in Northern Finland. Long time series for precipitation and rainwater pH were used as explanative variables to estimate the potential disappearance risk of Arctic tadpole shrimp (Lepidurus arcticus) in the northern Scandinavian Mountains. Ninety-nine per cent of rain is too acid for the Arctic tadpole shrimp in Northern Finland. Relatively large amounts of acid water rains directly to small ponds in comparison to larger lakes. Climate change together with acid rain will cause a remarkable extinction risk for Arctic tadpole shrimps in the small and shallow ponds.
---