Home
Program
Poster Session

Phytoplankton studies in the ice edge zone of the Barents Sea in the spring of 2016
1802 downloads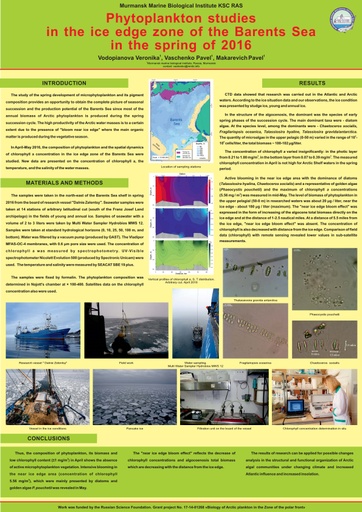 Veronika Vodopyanova
Murmansk marine biological institute
Pavel Vashchenko Murmansk marine biological institute
Pavel Makarevich Murmansk marine biological institute
In the north-east of the Barents Sea shelf in the spring 2016, the composition of phytoplankton and its photosynthetic pigments distribution were studied. Seawater samples were taken at 14 stations (south of the Franz Josef Land archipelago) in the fields of young and annual ice on standard hydrological horizons. The phytoplankton composition was determined in Najott's chamber at × 100-400.
The chlorophyll а concentration was measured spectrophotometrically, the temperature and salinity by SEACAT SBE 19 plus. Satellites data on the chlorophyll concentration also were used.
CTD data showed that research was carried out in the Atlantic and Arctic waters. The composition of phytoplankton (diatoms dominated), its biomass and low chlorophyll content in April (≤1 mg/m3) indicated the absence of active vegetation of microphytoplankton, chlorophyll concentrations decreased with moving away from the ice edge. Algal blooming with the dominance of diatoms (Talassiosira hyalina, Chaetoceros socialis) and golden algae (Phaeocystis pouchetii), as well as maximum concentrations of chlorophyll (5.56 mg/m3) was recorded in mid-May. Comparison of field data (chlorophyll) with remote sensing revealed lower values in sub-satellite measurements.
The results of research can be applied for possible changes analysis in the structural and functional organization of Arctic algal communities under changing climate.
---